Unable to connect to wallet RPC service: RPC call did not return 200: HTTP error: 0 - JSON Response: []
Our Pools Mainpage: www.suprnova.cc. Our Twitter: twitter.com/SuprnovaPools Be sure to follow us for updates and news !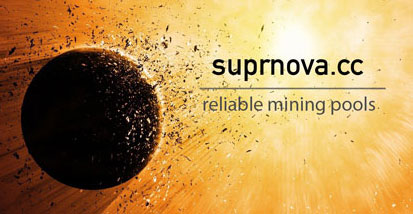 This pool has a separate User-DB for security reasons. You need to re-register even if you already have a suprnova account.
Suprnova's BTCPCoin Pool // Algo: equihash //
LIVE !
stratum+tcp://btcp.suprnova.cc:6822 Nicehash: 6823 CCMiner: 6824 SSL: 6825
| Rank | Donor | User Name | Shares |
| --- | --- | --- | --- |
| 1 | | anonymous | 1,447,056,569 |
| 2 | | docnovak | 1,113,478,257 |
| 3 | | anonymous | 856,720,353 |
| 4 | | anonymous | 674,565,422 |
| 5 | | anonymous | 662,901,833 |
| 6 | | anonymous | 662,158,251 |
| 7 | | anonymous | 661,780,144 |
| 8 | | anonymous | 659,640,847 |
| 9 | | anonymous | 653,807,902 |
| 10 | | anonymous | 653,125,099 |
| 11 | | anonymous | 652,189,203 |
| 12 | | anonymous | 651,817,281 |
| 13 | | anonymous | 644,884,364 |
| 14 | | anonymous | 642,613,746 |
| 15 | | anonymous | 636,933,204 |
| Rank | Donor | User Name | KH/s | BTCP/Day |
| --- | --- | --- | --- | --- |
Pool Hash Rate

0.000

MH/s
Pool Efficiency
0%
Current Active Workers
0
Current Difficulty

1.00000000

Est. Next Difficulty
0.00000001 (Change in 1 Blocks)
Est. Avg. Time per Round (Network)
2386092 hours 56 minutes 32 seconds
Est. Avg. Time per Round (Pool)
zero seconds
Est. Shares this Round
512 (done: 0%)
Next Network Block
1 (Current: 0)
Last Block Found
511,342
Time Since Last Block
39006 hours 23 minutes 44 seconds
| Block | Finder | Time | Actual Shares |
| --- | --- | --- | --- |
| 511342 | anonymous | 04/13/2019 09:39:42 | 6,949,067 |
| 511338 | anonymous | 04/13/2019 09:37:18 | 23,144,737 |
| 511320 | anonymous | 04/13/2019 09:25:13 | 26,598,352 |
| 511319 | anonymous | 04/13/2019 09:13:47 | 9,174,746 |
| 511281 | anonymous | 04/13/2019 07:44:28 | 3,651,835 |
| 511279 | anonymous | 04/13/2019 07:42:33 | 31,605,996 |
| 511274 | anonymous | 04/13/2019 07:28:18 | 27,744,757 |
| 511272 | anonymous | 04/13/2019 07:15:52 | 21,654,945 |
| 511271 | anonymous | 04/13/2019 07:06:24 | 3,531,350 |
| 511270 | anonymous | 04/13/2019 07:05:39 | 11,071,446 |